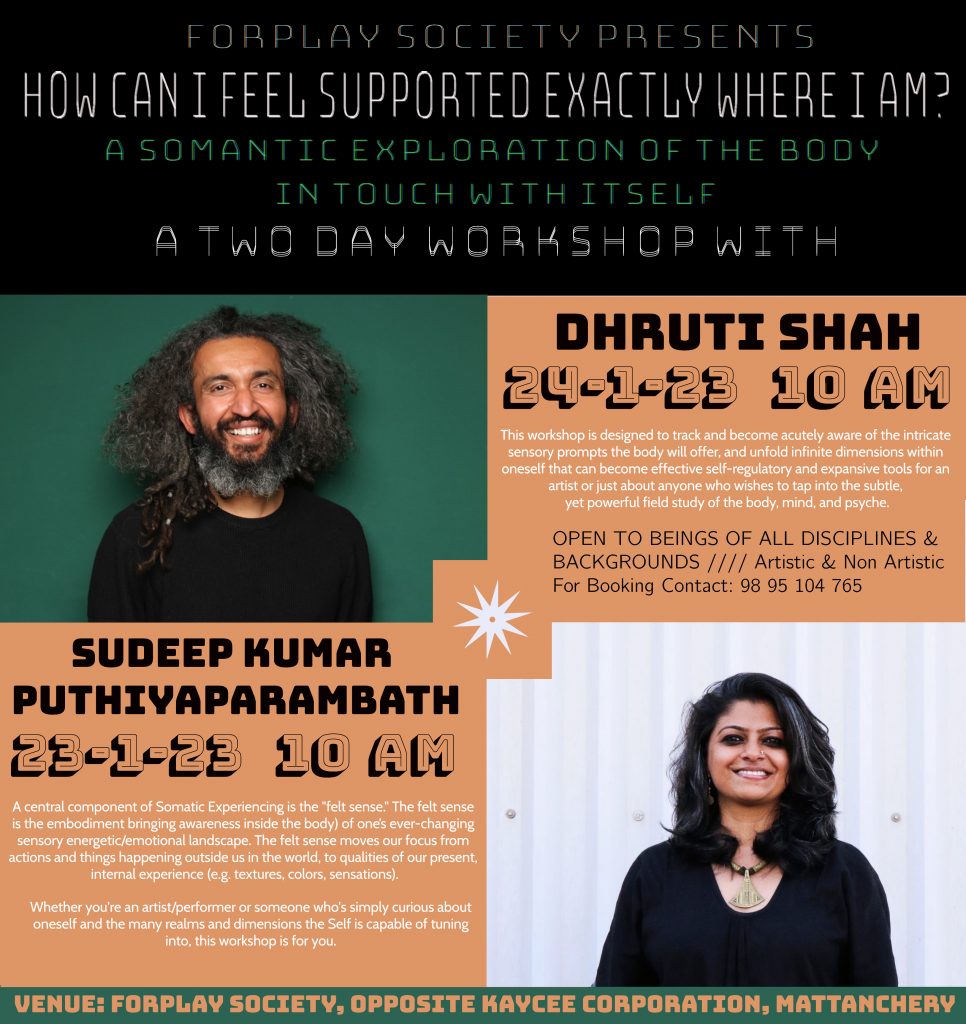 Sudeep Kumar Puthiyaparambath is a Theatre artist, Bharatanatyam -Indian classical dancer, contemporary dancer, and yoga guide whose work is unique in that it freely traverses between the traditional and contemporary. He has vast experience collaborating with prestigious choreographers
like Navtej Singh Johar, Justin McCarthy, Bharat Sikka and Ben J. Riepe. The work of Sudeep Kumar Puthiyaparambath is characterized by a strong and provocative poetry, between drama and irony that is interviewing beauty with moving statements. His expressions become more than a beautiful arrangement of moving bodies on stage and he is pushing those boundaries of tradition and contemporary dance with every creativity. He continues to develop his own vocabulary of dance and movement using his physical theater background, classical Indian dance, sounds and the skills from yoga that searches consequently for new aesthetics and ways of expression; digging deeper in our consciousness and testing the edges of abstract yet touching creations. Active and currently working with Ben J. Riepe Kompanie since 2012.

Yoga : A long time student and practitioner of yoga, he worked and trained 7 years in yoga therapy under Navtej S Johar. He did his two years of teacher training at Krishnamacharya Yoga mandiram Chennai, and has been teaching yoga for 15 years around the world.

Sudeep's teaching follows the detailed practice in asana, pranayama, and meditation as he creatively adapts and weaves mantra, Vedic chanting, visualization along with ancient techniques. His course of instruction is therapeutic, self-reflective, compassionate, and cognizant to the uniqueness of each individual. Sudeep has conducted several yoga workshops around the world. He has visited and taught at different universities such as Oxford University in the UK, Aarhus University in Denmark, and Sri Shankaracharya Sanskrit University in Kerala, Central University of Kerala.
Dhruti is a trauma therapist, theatre artist, writer, and creative and authentic movement practitioner, rooted in the field of somatic wisdom. She has over 14 years of experience in the healing arts, including ancient indigenous Dreamtime therapy, traditional eastern theatre practices, transformational bodywork, and hands-on energy medicine, to hold and nurture a safe and gentle space for all human emotions, stories, and experiences.