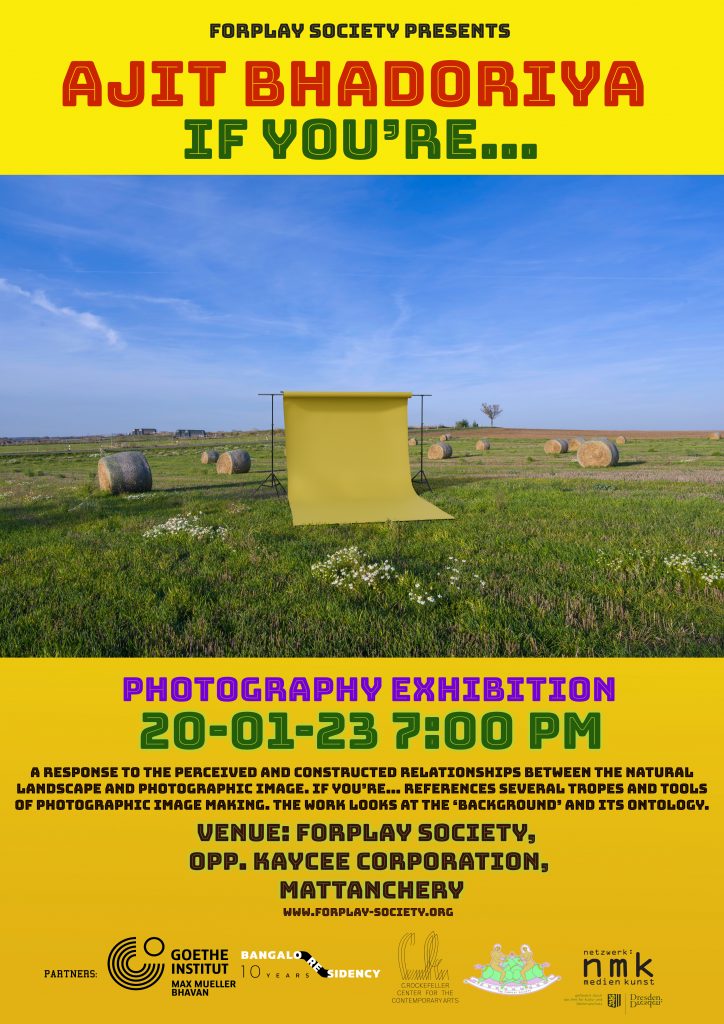 a photography exhibition from Jan 20th- Jan 27th
Growing up in India, European landscape art, or landscapes modelled on the European vision of the scenic was a massive part of the popular visual culture around me. Screensavers, desktop backgrounds, and photo posters – all depicted natural landscapes that were unfamiliar in location, and yet at the same time, extremely familiar in concept. When I encountered the same landscape in real life, my immediate instinct was to turn the natural landscape into a background for an object that has become a universal tool in the photography trade; the seamless studio backdrop.
A response to the perceived and constructed relationships between the natural landscape and photographic image. If you're… references several tropes and tools of photographic image making. The work looks at the 'background' and its ontology. The word 'background', here, applies to both the commercially available seamless photo backdrops (whose names are inspired by nature) as well as the scenic landscapes amidst which the studio backdrop is installed.
The history of image making, especially when it comes to creating landscape imagery, is linked to several concepts – the scenic; sublime; exploration and so on. The framed landscape painting for instance served as an optical illusion that mimicked a window to the outside world. This work dwells on how these landscapes, or ideas of the scenic, become genericised in editorial and studio photography and have evolved over time to merely signify the scenic by a flat, seamless background.
Ajit Bhadoriya is an artist who works primarily with the camera lens. He explores themes of home, displacement, the tension between the urban and the rural divided by the fragile representation of nature, the longing for home, and landscapes in the making. His work is also concerned with technologies of navigating and visualizing the urban landscape through layers of language, cartography, and sensory representations. He is interested in documenting the smallest markers that alter the meaning of space and time.
Ajit did his Masters in Photography at the National Institute of Design, Ahmedabad, and at the University of Creative Arts, UK. He was awarded a Media Fellowship by the National Foundation for India and a Tierney Fellowship in Photography by the Tierney Foundation, New York. He has exhibited his work at festivals such as Photoville (New York, 2012), Angkor Photography Festival and Workshop (Siem Reap, 2012), Chobi Mela VII (Dhaka, 2013), Focus Photography Festival (Mumbai, 2015), Landskrona Foto: View India (Sweden, 2019) and Pingyao International Photography Festival (China, 2019).