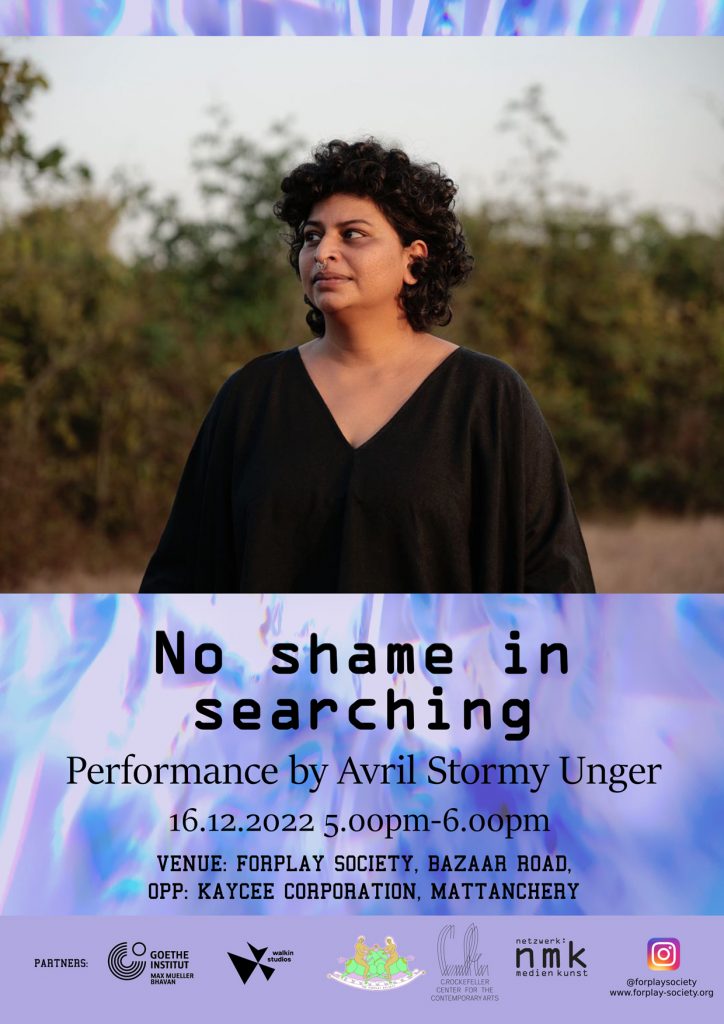 "No shame in searching"
This is an ongoing experiment where the performer is searching for performance in the presence of and in response to a live audience. The idea is to allow the body to lead the artist into herself where she finds sounds, words, movement and interactions in the hope to find what she is looking for. This piece plays with the concept of what is considered a complete work and what is process? what is personal or private to a performer and what is public.
Avril Stormy Unger is an interdisciplinary artist whose work across mediums is informed by the nuances of performance. Her practice spans durational performance, live art, movement art, video, interventions and installations. Her artistic practice is impulsive, deeply personal and unbound by discipline.
Her solo show 'Almirah' was shown at 1, Shanthi Rd, Bangalore in 2022. Avril was invited to the Embodied Arts Festival, Oyoun, Berlin in 2021 where she produced video works 'Mirage' and 'Untangle'. She created an artist book 'I think it sucks' in collaboration with Renuka Rajiv which was shown at Vadehra Art Gallery, Delhi in 2020.
Avril lives and practices between Bangalore and Goa, India
Free Admission / Donation