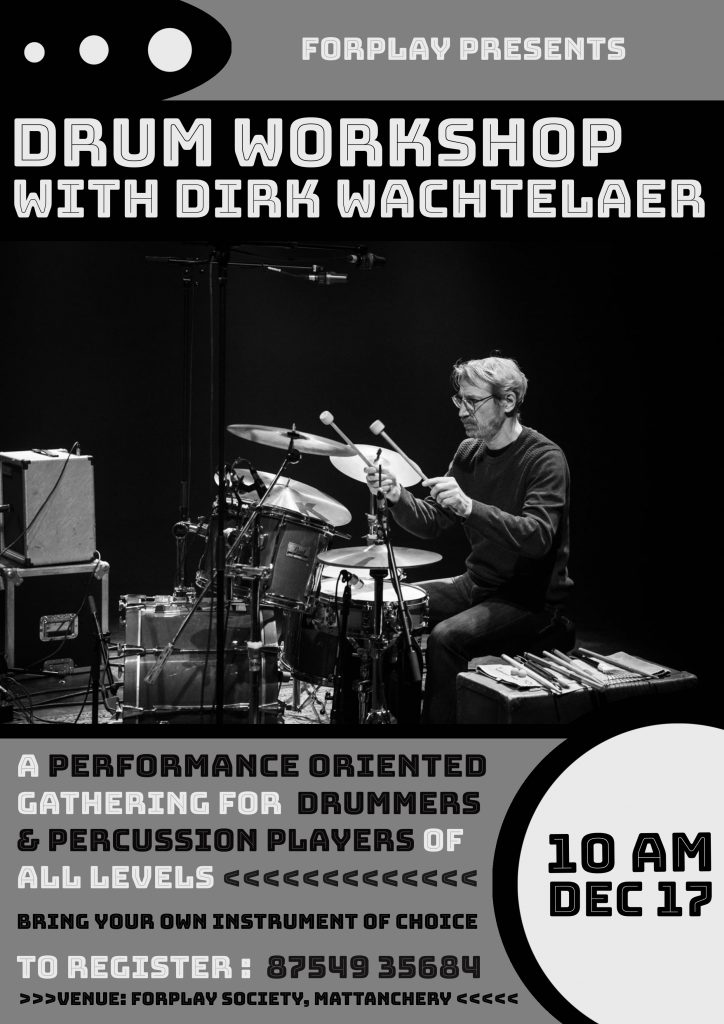 Dirk Wachtelaer has been playing drums for over 35 years. As a sideman he has played in numerous groups in all possible styles, as a leader he founded the ensemble Vanishing Pictures in 1999, with performances at home and abroad and 4 CD recordings. In addition to drums, he has also experimented with electronics for many years. The common thread running through his trajectory is improvisation.
He was most in the spotlight as a drummer with Paul Schutze's ensemble Phantom City, including Bill Laswell on bass, with rave reviews from the international press (including from the renowned magazine Wire). He has worked extensively with Japanese trumpeter Toshinori Kondo with whom he has done a tour of Japan in addition to CD recordings. Other long-term collaborations were with Stevie Wishart (duo, Transient) and with the Belgian Pablo's Eye. In Belgium he has collaborated numerous times with Luc Mishalle, mainly in ensembles with African musicians. He has also been active in music theater, among others as musical director and performer in Midsummer Night's Dream by theater Froe Froe for which he put together an ensemble with Chinese musicians, and as a member of Cro Magnon together with Chris Lomme (Zoon, Braakland).
Currently, Dirk Wachtelaer focuses exclusively on improvisation, in various ad hoc ensembles but also with dance and/or image. Regular partners in crime are guitarist Alec Ilyine, electronics wizard Jürgen de Blonde (in duo and the trio The Begotten, together with Brecht Ameels) and of course the American instrument builder Dirk Johan Stromberg with whom he recorded 2 CDs as a duo.
Besides music Dirk Wachtelaer is also creating videos.
https://dirkwachtelaer.bandcamp.com/
https://www.youtube.com/channel/UC2sMSlQe8cBDCHClDiAtMEw?view_as=subscriber