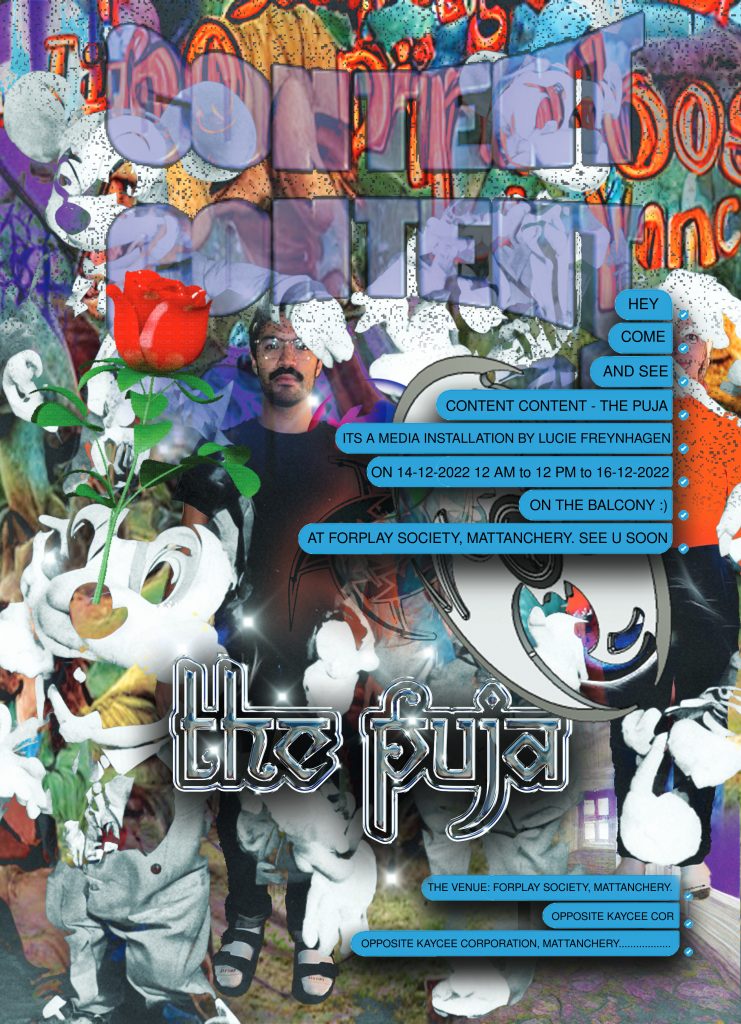 Opening: 14.12.2022 6pm
Currently bangaloREsident at Walkin Studios in collaboration with Goethe Institut Bangalore
"CONTENT CONTENT – The Puja" is a video installation by Lucie Freynhagen for the public space in Bangalore and Kochi. The work reflects its medium and its surroundings while misusing popular propaganda, consumerism, as well cultural related strategies, to generate own dreams and (des)illusions. The multiple contextual layered and self empowered artistically Puja to the public, the city and our time itself, tries to negotiate beliefs around technology, media and their general promises and therefore to create awareness for a clueless revolution. The work was created during the artist's current residency program and fuses her own work with material that were generated together with Indian artists, as well set pieces from her current web series project ContentContent, on which she is collaborating with Caroline Beach and Joseph Hernandez, as well as many other artists.
ContentContent is a media performance about the urgency of making art at the "end of the world", or at the end of a collection of shifting realities that make up the dreamscape of late capitalism. ContentContent reflects the premise of the frenzied internalization of information in contemporary society by constantly slipping back and forth between different forms of representation. The format alternates between the stiffened and sterile presence of TedTalk-like discussion and intrigue of a musical, which is a complex, non-linear behemoth performed mostly by non-human actors at dizzying emotional heights. Overall, it takes a hard look at the paralysis of a generation caught in a post-ironic feedback loop involving gamification, memeification and instant wish fulfillment through algorithmic predictions. ContentContent has no center and no end. This mystery is buried in the children of the 90s themselves. This dichotomy threatens to boil over with chaotic emotions and desperate convictions. ContentContent is used to highlight truths that have shaped the last decade, such as the ever-increasing sense of isolation within a capitalist society, the values that are spent above all else, or the growing amount of existential angst inherited by each successive generation as the planet hurtles towards certain doom through unbearable amounts of carbon dioxide. To look at contemporary society through the lens of the traditional musical is to see the tension between the things we want from existence and the things we have to deal with in order to achieve and elevate them.